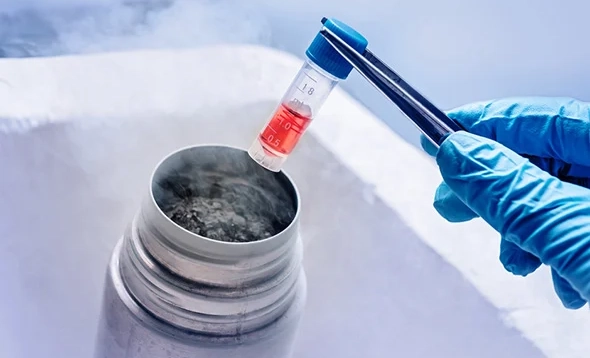 Egg freezing, also referred to as oocyte cryopreservation, is a fertility preservation method that allows women to delay family-building while preserving current fertility. RMA of New York's cutting edge laboratory utilizes the latest advanced cryopreservation technology, called vitrification, which has revolutionized the ability to freeze and successfully thaw frozen eggs. Vitrification is an extremely successful technology and has resulted in the survival of well over 80-90% of eggs frozen and consistently achieves high embryo survival rates.
When should I freeze my eggs?
Women are at their most fertile in their early to mid-20s, after which a steady natural decline in both egg quality and quantity begins, which negatively affects the ability to become pregnant. After the age of 35, the decline typically happens at a more rapid pace. Younger eggs therefore offer a better chance of achieving a healthy pregnancy, which conflicts with the fact that it is very common for women to delay childbearing for a multitude of reasons. Fortunately, advances in egg freezing technology have made it possible to safely and successfully retrieve and freeze unfertilized eggs to be used whenever a woman is ready to start a family.
Oocyte cryopreservation, or egg freezing, can be a valuable opportunity for many women, including those who:
Are building a career
Have lifestyle considerations
Have religious objections to freezing embryos
Have not yet met the right partner
Have medical considerations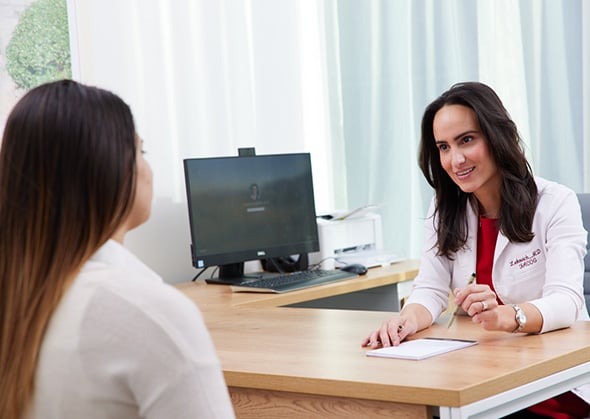 Preserving Your Fertility: Peace of Mind
At RMA of New York, our goal is to provide you with options that meet your desires for a future family. We offer you the opportunity to stop your biological clock by retrieving, freezing and storing your eggs during your fertile years so those healthy eggs will be available to create your family in the future when you are ready, thus reducing concerns about an age-related decline in fertility. Though years may go by, the eggs remain the same age they were when retrieved, greatly improving your chance of conception in the future. Our use of innovative cryopreservation techniques has resulted in both a high survival rate when thawing cryopreserved eggs and healthy babies born following fertilization and transfer.
The Egg Freezing Process
Both the egg and embryo freezing processes start much like traditional IVF. Medications are taken to stimulate the ovaries to simultaneously mature multiple eggs that can then be retrieved from the body. The egg freezing process generally takes less than four weeks from start to finish.
Step One: Consultation and Preparation

The first step is an initial consultation with one of our Fertility Specialists. At this appointment, you and your doctor will discuss your family-building goals and review your medical history. Fertility testing will also take place at this appointment, including blood work and transvaginal ultrasound. These tests assess egg quality and quantity and help your physician evaluate how your body will respond to the fertility medications used in egg freezing. After your appointment, our dedicated team of nurses and coordinators work closely with you to prepare you for the egg freezing process. You will learn about ovarian stimulation, how to administer medications, and the egg retrieval/freezing process.

Step Two: Ovulation

Fertility medications are prescribed and self-administered by injection daily to stimulate the ovaries and mature numerous eggs at once. Most often, having a greater number of eggs improves the chances of fertilization, and, ultimately, a future pregnancy. While administering your medications, you will come into the office approximately every other day for a short monitoring appointment to assess your progress. Medication adjustments are then made based on the results of your monitoring visits in an effort to highly personalize your treatment to your own individual medication response, in order to optimize your results.

Step Three: Retrieval

When multiple eggs have matured and are ready, one of our physicians will perform an egg retrieval. This procedure takes approximately 15-20 minutes and is done under general anesthesia at one of RMA of NY's four full-service IVF laboratory facilities, so there is no need to go to an outside hospital. Using an ultrasound, your physician guides a needle through the vaginal wall and into the ovaries to gently draw the eggs from their follicles into sterile test tubes. After the procedure, you will rest for approximately one hour in our recovery room.

Step Four: Cryopreservation

After the eggs are retrieved, they are transferred to the embryology laboratory adjacent to the surgical suite. The retrieved eggs are evaluated, and those considered mature are frozen. We provide safe, secure long-term laboratory storage on-site at each of our four full-service IVF laboratory locations- in Manhattan, Brooklyn, Westchester, and Long Island. . When you are ready to conceive, the eggs are carefully thawed and injected with sperm. The resulting embryos are transferred into the uterus in an embryo transfer cycle
Egg Freezing at RMA of New York
Advances in Technology
The development of an advanced cryopreservation technique called "vitrification" has allowed for very high egg survival rates. RMA of New York has been at the forefront of egg freezing technology and cutting-edge research. Our successful thaw rate is over 90%. Thousands of babies have been born worldwide from eggs that have been frozen and thawed, and studies have revealed no apparent increase in chromosomal abnormalities or birth defects. Recent findings show that frozen eggs are yielding successful pregnancies and healthy babies at rates comparable to those achieved through in vitro fertilization cycles using fresh eggs.
Cost of Egg Freezing
The cost of egg freezing may be partially or fully covered by your health insurance. The level of coverage, if any, depends on the type of insurance plan you have. One of our Financial Services Coordinators will help you navigate your insurance coverage and discuss your out-of-pocket expenses for the procedure.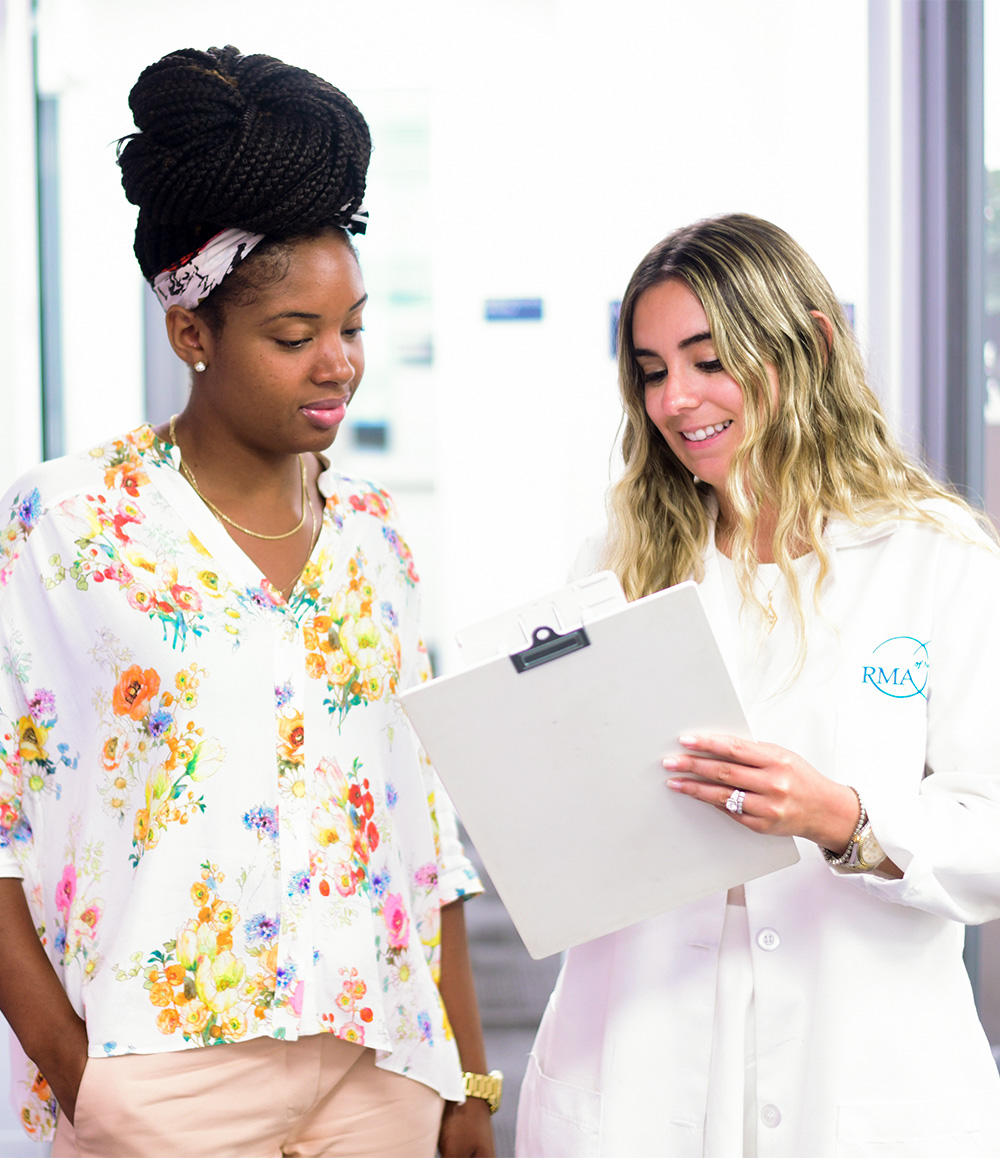 Why RMA of New York: Egg Freezing
RMA of New York serves as the Division of Reproductive Endocrinology and Infertility at Mount Sinai Medical System. Our laboratory team is dedicated to scientific discovery, graduate medical education through RMA of NY's REI Fellowship Program, and individualized care that focuses on you.
Our team of embryologists are consistently recognized as innovators in reproductive science and medicine, and security and safety standards. RMA of New York has been at the forefront of embryo freezing technology and cutting-edge research, helping countless individuals and partners achieve the dream of building a family.
Get Started
It's never too early to learn about your fertility and reproductive options.
Have questions?
We can help.
Patient-centric reproductive medicine is our specialty, and we look forward to answering any questions you may have.