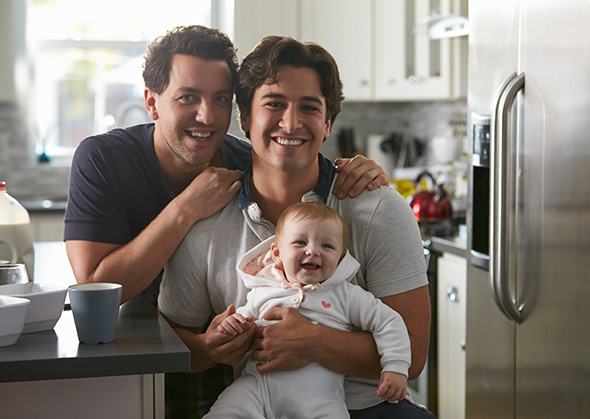 There are a variety of reasons an individual or couple may choose to pursue surrogacy, including but not limited to:
Medical conditions making it dangerous to carry a pregnancy (cancer, lupus, type 1 diabetes, and heart disease)
No uterus/uterine conditions (history of hysterectomy or ruptured uterus from previous delivery)
Reproductive health disorders (recurrent miscarriages, complications from previous pregnancies or deliveries)
Intended parent(s) in need of an egg provider (for example same-sex male parents)
Gestational Surrogacy in New York
On February 15th, 2021, the Child-Parent Security Act took effect in New York State. This law legalized gestational surrogacy and provided a simpler path to establish legal parental rights for parents who rely on assisted reproductive technology to have children. In addition to expanding protections for LGBTQIA+ families in New York State, the passing of this law makes it easier for intended parents to work with paid surrogates in New York as opposed to going out of state. As one of the last states in the U.S. to legalize surrogacy, New York took a significant step forward in reproductive rights for the LGBTQIA+ community and individuals in need of a surrogate to start their family.
Third Party Reproduction
"Third-party reproduction" refers to assisted reproduction that involves a party or parties other than the intended parent or parents, such as a surrogate, a donor, or both. The Third Party Team at RMA of New York is committed to guiding intended parents through the surrogacy process. Composed of fertility specialists, nurse practitioners, and other members of the clinical staff, the Third Party Team is a concierge service that specifically assists individuals in need of an egg and/or sperm donor, and/or a gestational surrogate. The Third Party Team is responsible for organizing the medical screening of potential surrogates, reviewing candidates to help determine eligibility, and coordinating transfer cycles.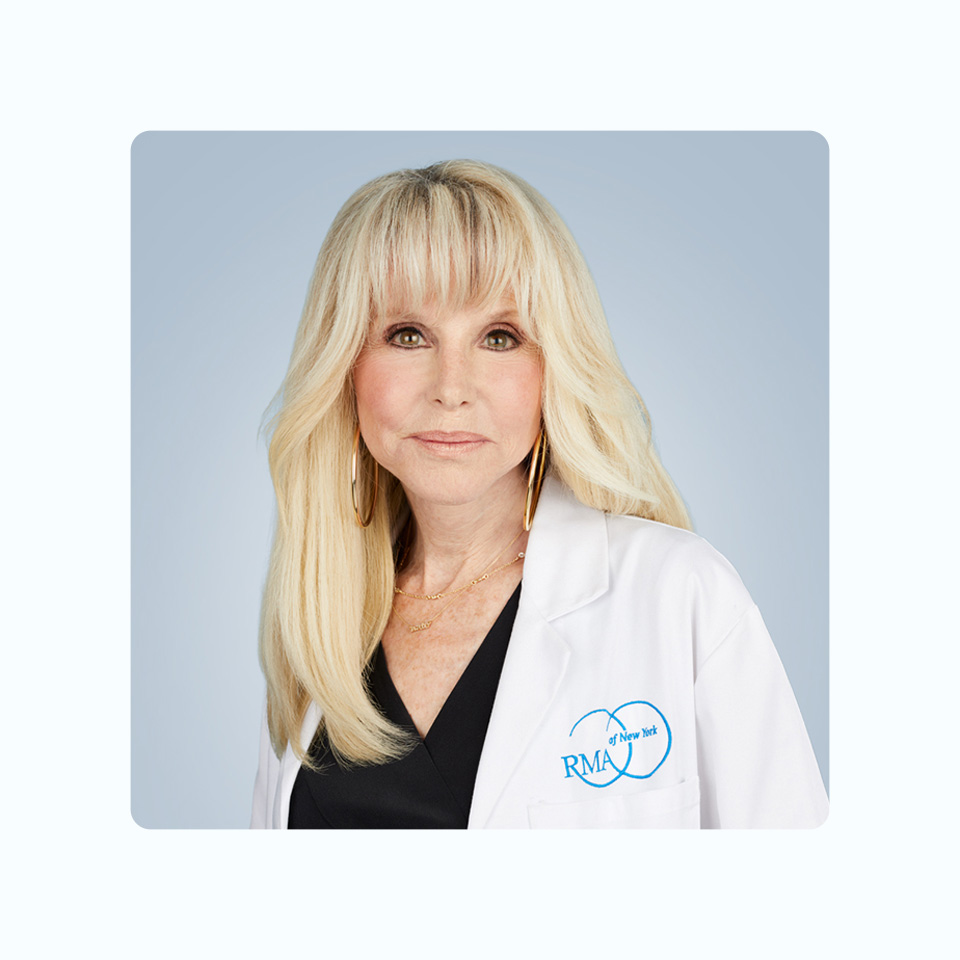 Dr. Georgia Witkin
Director of Psychological Wellness Services at RMA of New York
RMA of New York wants to ensure that all parties are comfortable with their decision to participate in the surrogacy process and understand their roles and expectations. The Third Party Team, therefore, arranges for both the surrogate and intended parent(s) to speak with Dr. Georgia Witkin, Director of Psychological Wellness Services. Dr. Witkin is a professional expert for patients as they go through the surrogacy process. Not only does she provide clarity on the logistics of surrogacy, but she also offers valuable strategies on how to cope with emotional challenges that may arise during the journey.
The Gestational Surrogacy Program at RMA of NY
Though the search for a gestational surrogate can take up to 6 months, choosing a surrogate is a very personal decision and there are many factors that should be considered. Therefore, it is important to identify the right agency and legal representation at the beginning of your family-building process.
Agency Selection

To find a surrogate, the Third Party Team refers patients to a list of surrogacy agencies. Contacting these agencies and learning about their programs is the first step in this journey. The agencies help guide patients as they view surrogate profiles and find lawyers for ongoing representation. The agencies review the details of each case and develop a unique contract for each patient that outlines different scenarios. Additionally, the agencies give a breakdown of financial aspects and different programs they offer. The chosen agency will be responsible for identifying potential surrogates and for performing the in-depth investigation of the surrogate. This includes background checks for the surrogate and any partner/spouse, home visits, criminal checks, and financial checks.

Surrogate Selection

A gestational surrogate is a woman who has given birth to at least one child of her own without complication, lives in a stable home environment, and has a good health history. They must be within the ages of 21-45 and not have a BMI greater than 35. Gestational surrogates can be known (family member or friend) or compensated (paid through an agency).

It is important to identify a surrogate that will be aligned with the intended parent(s) views on pregnancy. The surrogate will carry the child as it grows and the surrogate's decisions can impact the intended child's development. It is helpful to consider the following questions, therefore, when choosing a surrogate:

Where does the gestational surrogate live and where would she deliver?
Is attending OB visits important to you and will the surrogate be accommodating?
Will the surrogate allow you to be there for the delivery?
Does the surrogate have a healthy diet?
Does the surrogate have the same lifestyle values as you?
Does the surrogate have a support system in place?

Contract / Legal Documents

Before the start of any medical procedures, both the intended parents and the surrogate must work with their legal representation to write, review, and sign a surrogacy agreement. This agreement is legally binding and enforceable in order to best protect the interests and rights of all parties involved.

The surrogacy agreement is a comprehensive document that describes the rights and responsibilities of the surrogate and the intended parent(s). While every surrogacy agreement is different based on state surrogacy laws and each party's individual needs and circumstances, in general it should include the following elements:

The surrogate's compensation
The risks and liabilities associated with pregnancy
The surrogate's responsibilities to take care of herself and the baby throughout the pregnancy
An agreement on sensitive issues such as termination should it become necessary
List of individuals permitted at prenatal appointments and the birth

Screening

Once the intended parent(s) choose a surrogate and all legal contracts are in place, the surrogate will begin a screening process to ensure that she is able to move forward with an embryo transfer. Both the surrogate and their intimate partner (if applicable) will undergo specific screening as directed by the FDA and ASRM. Screening includes:

Infectious Disease Testing for the surrogate and partner (if applicable)
Urine drug screening for the surrogate and partner (if applicable)
Physical exam of the surrogate
Saline Sonogram to assess the uterine cavity
General blood work
Psychological screening with Dr. Georgia Witkin for the surrogate, partner (if applicable), and the intended parent(s)

Identify Egg and Sperm Sources

Because a gestational surrogate cannot donate their own eggs as part of the surrogacy agreement, the intended parent(s) must identify a sperm and egg source. If needed, the intended parent(s) choose to use donor sperm and/or eggs from a bank.

Individuals who may be unable to conceive due to azoospermia (the absence of sperm), severe male-factor infertility, are a single woman, or a partner in a same-sex female couple or cis-gender/trans-couple may consider using donor sperm from a licensed sperm bank or a known donor. Similarly, individuals who are unable to achieve pregnancy using their own eggs due to egg quality, genetic abnormalities, previous surgeries, or are a partner in a same-sex male couple, or cis-gender/trans couple trying to conceive may consider using a donor egg to build their family. Donor eggs can come from a variety of sources, including an anonymous egg donor from RMA of NY's Egg Donation Program, an agency egg donor, a donor egg bank, or a known donor.

FDA screening will occur prior to the creation of the embryos based on the egg and sperm source. This will include infectious disease and genetics screenings and a physical exam for both the egg and sperm sources.

Preimplantation Genetic Testing of Embryos

RMA of New York highly recommends Preimplantation Genetic Testing (PGT) on embryos intended for transfer into a surrogate. PGT can be used to evaluate embryos for genetic abnormalities before they are transferred into the uterus to attempt pregnancy. Learn More

Transfer

Once the previous steps are complete, the surrogate is cleared to begin a transfer cycle. She undergoes additional infectious disease testing, bloodwork, and a transvaginal ultrasound. When these results are collected, the Third Party Team advises the surrogate on medications to prepare her body for the transfer cycle. The surrogate comes in for monitoring appointments about once a week to review her progress and medications are adjusted as needed in order to increase the thickness of her uterine lining. After approximately two and a half weeks, and after adding progesterone to the treatment regimen, the surrogate's uterine lining should be ready to accept an embryo. At that time, an embryo from the intended parents (previously created using either their own or donor egg and sperm) is thawed and transferred into the surrogate's uterus.

Confirming Pregnancy and Post-RMA

Two weeks after the embryo has been implanted, the surrogate will take a pregnancy test to confirm a pregnancy. If she receives a positive result and has achieved a successful pregnancy, RMA of New York will continue to follow the surrogate until about 9 weeks of gestation when a heartbeat can be identified on ultrasound. At that time, RMA of New York will recommend that the surrogate continue to receive care through her OBGYN.

Understandably, the intended parent(s) may want to be involved in the pregnancy as much as possible, including attending regular pregnancy check-ups. Terms of the level of involvement should be pre-determined and a mutual agreement should be reached before a pregnancy is achieved. Oftentimes, the gestational surrogate is located in another state and in-person visits are not feasible. However, telemedicine now offers more opportunities to be involved despite distance.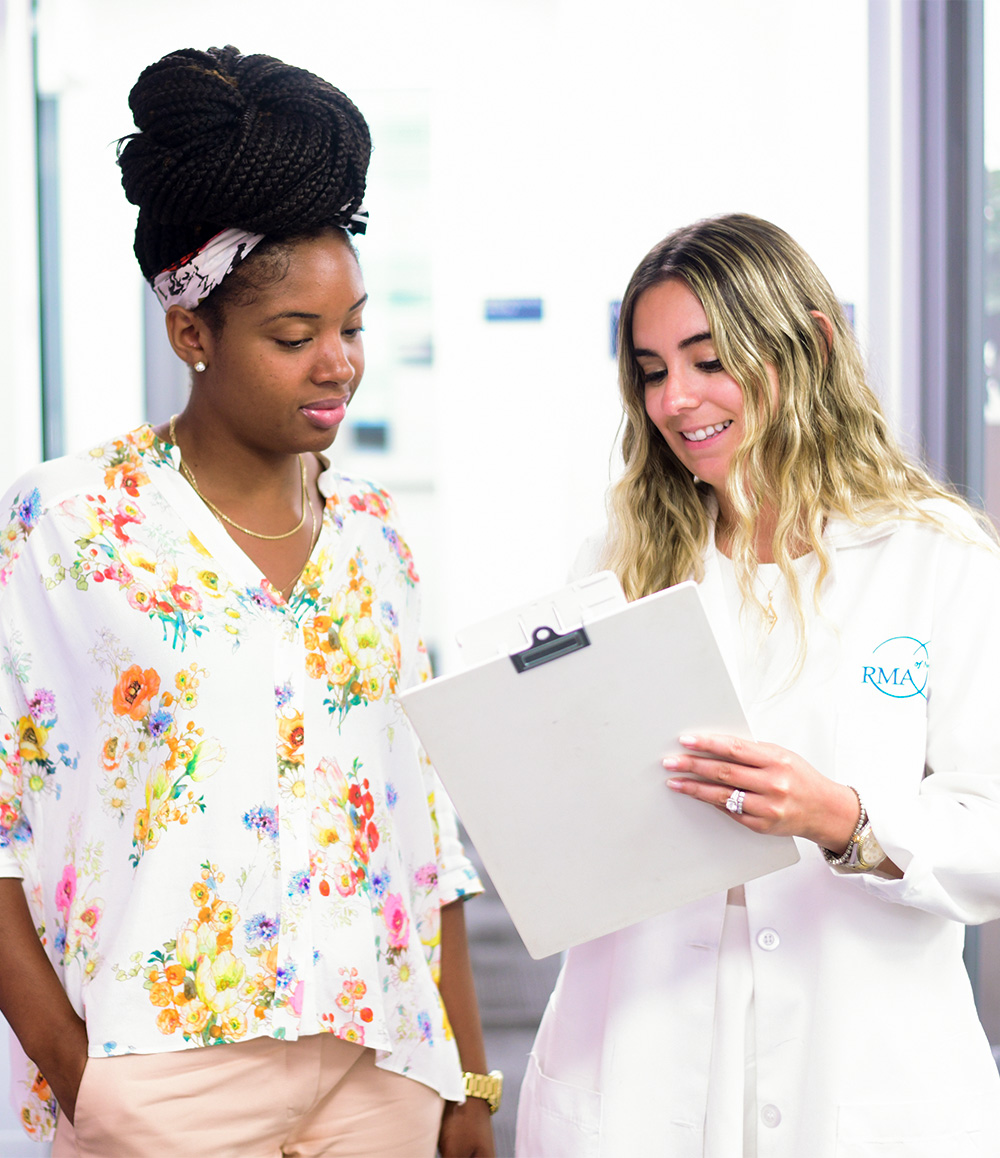 Why RMA of New York: Gestational Surrogacy Program
RMA of New York serves as the Division of Reproductive Endocrinology and Infertility at Mount Sinai Medical System. Our laboratory team is dedicated to scientific discovery, graduate medical education through RMA of NY's REI Fellowship Program, and individualized care that focuses on you.
Our team of embryologists are consistently recognized as innovators in reproductive science and medicine, and security and safety standards. RMA of New York has been at the forefront of embryo freezing technology and cutting-edge research, helping countless individuals and partners achieve the dream of building a family.
Get Started
It's never too early to learn about your fertility and reproductive options.
Have questions?
We can help.
Patient-centric reproductive medicine is our specialty, and we look forward to answering any questions you may have.