Founding Physicians Reflect on 18 Years of Care
June 3, 2019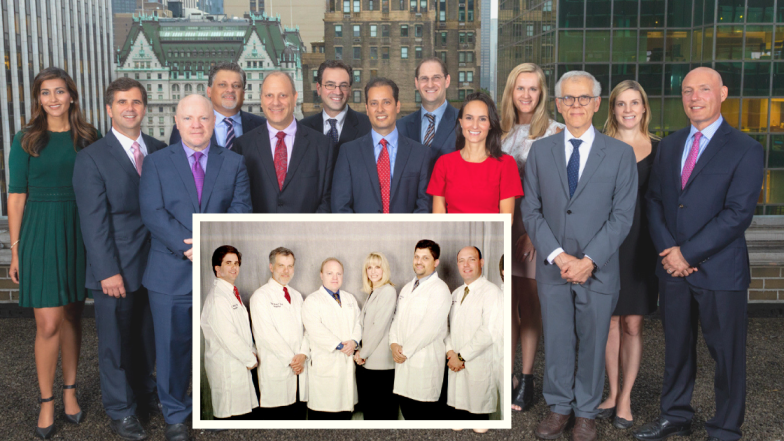 Since the inception of our practice, our physicians have come together to help patients achieve their family building goals. Our commitment to care, dedicated team members, and advanced technology have all contributed to this exceptional endeavor. On the 18th anniversary of the founding of RMA of New York, we celebrate all the lives that have been changed and are grateful to have the opportunity to help our patients realize their dreams. We asked the physicians who founded RMA of New York how it all got started and what has changed over the 18 years they have been in practice.
How did the founding partners of RMA of New York decide to begin this practice?
The founding partners – Dr. Alan Copperman, Dr. Lawrence Grunfeld, Dr. Benjamin Sandler, and myself – first met while practicing at the Mount Sinai Hospital. Luckily, the opportunity came along to start our own practice when an office and lab at 635 Madison Avenue became available. There was no hesitation to go into practice together. I could not think of a greater honor than to work alongside terrific physicians who were not only my mentors but my friends. – Dr. Tanmoy Mukherjee
Do the patients you see today differ from the patients you first saw 18 years ago?
Two decades ago, our patient population was very specific. We tended to treat patients who wanted to be pregnant, were attempting conception, and were struggling to become pregnant. Egg freezing was not available as an elective procedure to patients at that time as it was a relatively new procedure when we first opened our practice in 2001. Thus, we did not see as many individuals wanting to freeze their eggs. Today, we see many more individuals seeking fertility preservation for elective reasons. In addition, the mean age of our patient population was a little younger than today's patients. People wanted to create families earlier in their lives because the technology wasn't available to have a child in your late 30s or early 40s like it is today. –Dr. Benjamin Sandler
What clinical strategies have changed in the 18 years RMA of New York has been in business?
The major shift in our clinical strategy has been avoiding multiple births. In the past, we would use more aggressive methods in order to get patients pregnant, such as implanting several embryos in hopes that one would implant. Multiple births, therefore, were more common. Fortunately, thanks to advances in assisted reproductive technology and preimplantation genetic testing, we have been able to improve the healthfulness of the pregnancy by increasing the proportion of patients that gets pregnant with one baby. The baby can spend more time in utero and there are fewer complications and pregnancy losses as a result.
The second big shift came in preimplantation genetic testing. With this technology, we have been able to avoid miscarriages that were inevitable and the storage of embryos that had absolute no probability of producing a pregnancy. Technological advances have been added at lighting speed in the last 18 years and they have completely changed our clinical strategy. –Dr. Lawerence Grunfeld
How has big data and access to large-scale aggregates impacted the way you treat patients?
It is common for people to use the terms 'big data' and 'data-driven decisions,' but what is really amazing is watching this information translate into better patient care and better outcomes. We've used our 25,000 cycles of in vitro fertilization and more than 100,000 patient journeys to help to create decision support tools. Essentially, that means that for any moment in time and any patient's or couples' journey we can determine the pathway, the decisions, the medications, and the treatments most likely to achieve success. – Dr. Alan Copperman