5 Simple Ways to Jump Start Women's Health Month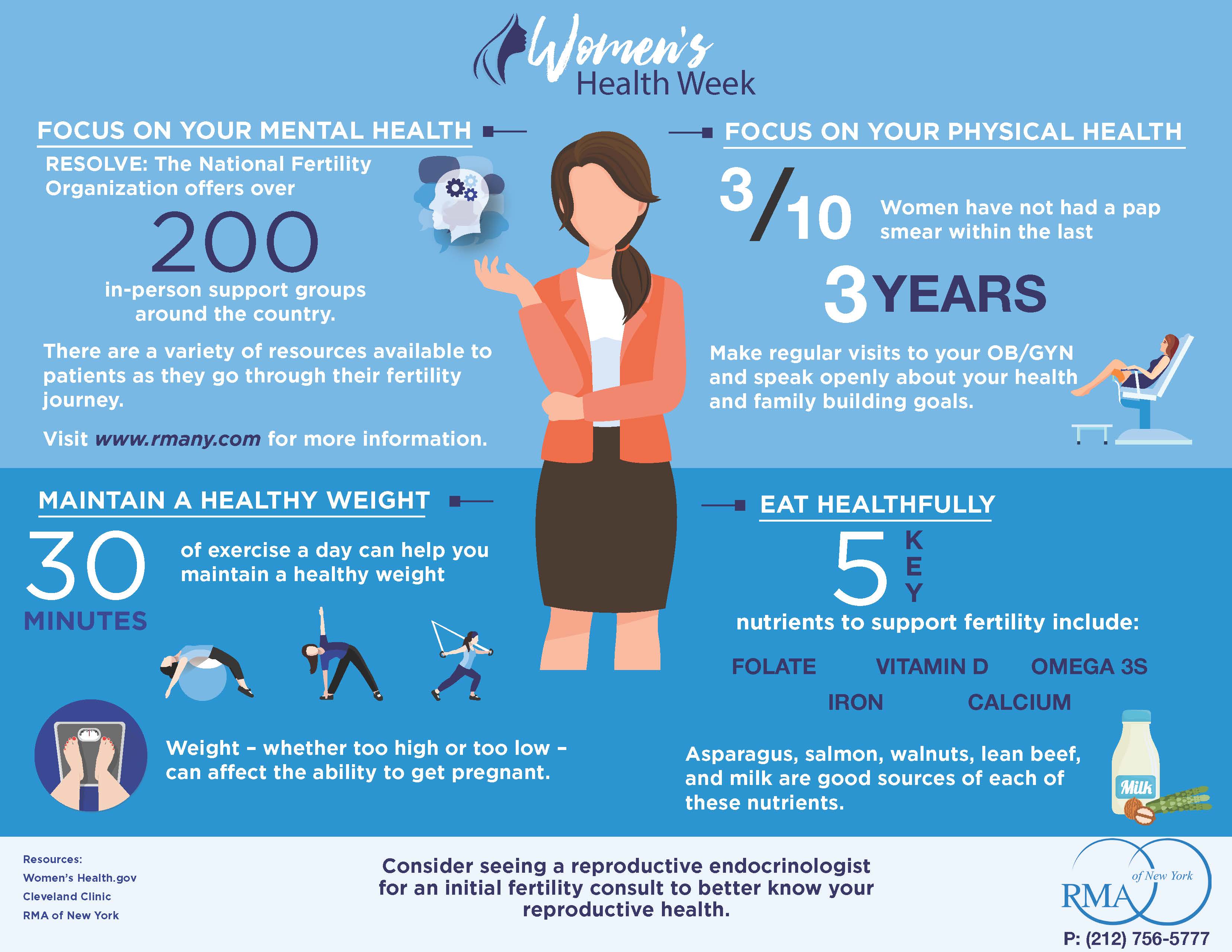 National Women's Health Week kicks off on Mother's Day each year, and serves as a reminder to women to prioritize their health all month long. If you are undergoing fertility treatments and trying to conceive, you can take steps towards improving your physical and mental health by implementing positive habits in your daily routine. The physicians and clinical staff at RMA of New York want to equip you with helpful tips that can serve as the foundation for a lifetime of good health. Consider following these strategies to empower yourself and take ownership of your health.
1. Prioritize your physical health
Meet with your OBGYN regularly so you can schedule important preventative health screenings, like undergoing Pap smears and physical examinations. You should feel comfortable speaking with your doctor and maintaining an open dialogue about your health. In doing so, you will be able to have important conversations about fertility and future family building.
2. Focus on your mental health
Consider using resources that can offer support and help you remain positive as you undergo fertility treatments. RESOLVE: The National Infertility Association offers over 200 in-person support groups throughout the country! There are a variety of resources available, including podcasts, mediation apps, and one-on-one counseling you can also consider. RMA of NY's therapist, Rena Stein, LCSW, lists some of her favorites in her blog.
3. Maintain a healthy weight
A healthy weight differs for everybody. Speak with your doctor to determine a healthy weight range for you. If you are trying to conceive, maintaining that weight is important – women under or over-weight often have more trouble conceiving. You will benefit both physically and mentally by incorporating exercise into your daily routine. For example, 30 minutes of brisk walking a day will not only maintain your weight, but can refocus your attention and encourage positive thoughts.
4. Eat healthfully
Maintaining a healthy weight goes hand in hand with eating balanced meals. There are a few nutrients you should consume regularly if you are trying to conceive – folate, vitamin D, omega 3s, iron, and calcium. They can be found in a variety of food sources, including asparagus, salmon, walnuts, lean beef, and milk. Try to incorporate these foods and others like these into you daily diet.
5. Address your reproductive health
Speak with a reproductive endocrinologist to learn about yourfertility status. Knowing specifics about your fertility, such as the number and quality of your eggs, will empower you to make the best decisions for yourself and future family. You can learn about family building options and the steps you may need to take in order to reach your goals.
Your health is a lifelong journey. Implementing small changes into your life now, such as those suggested here, can ultimately yield significant impact in your future.