Q&A Series: Meet Dr. Rachel Gerber, New Physician at RMA of New York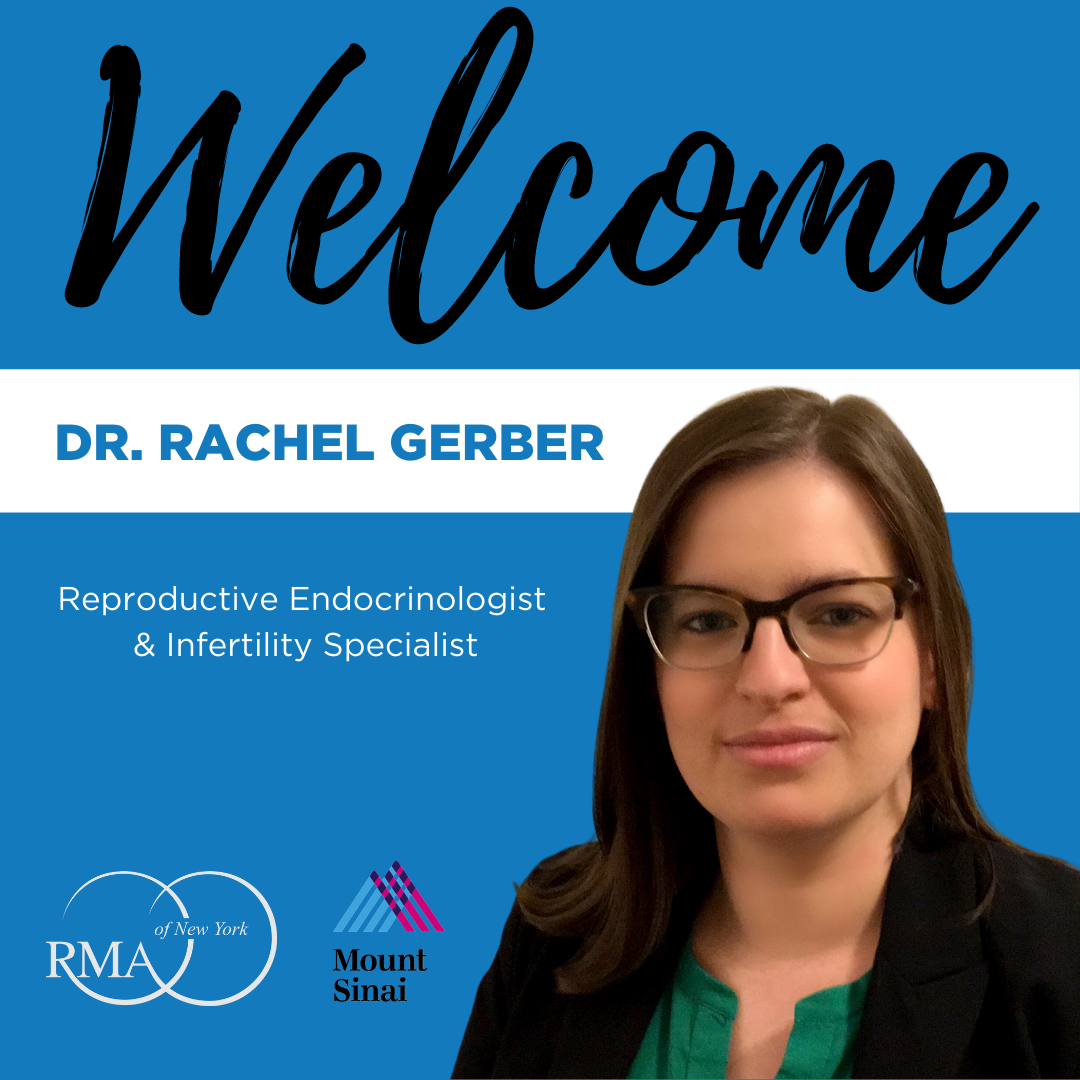 Reproductive Medicine Associates of New York is excited to welcome Dr. Rachel Gerber, reproductive endocrinologist and infertility specialist and board-certified obstetrician-gynecologist. Dr. Gerber's interest in science and medicine began in her undergraduate training as a chemical engineer at Columbia University. After completing medical school, residency, and fellowship training in New York City, Dr. Gerber was drawn to RMA of New York's comprehensive team approach coupled with personalized medicine. Dr. Gerber is active in scientific research and has published numerous articles in peer-reviewed journals on topics including preterm birth and pregnancy outcomes. In this week's blog, Dr. Gerber explains what inspired her to get into the fertility field, tells us about one of her most memorable patients, and gives advice about what patients should keep in mind as they go through their fertility journey.
1. Tell us about your medical background and why you chose Reproductive Endocrinology and Infertility as your subspecialty?
Dr. Gerber: I studied engineering as an undergrad and I enjoyed that a great deal. But I realized early on that I was meant to work directly with people, and in order to find meaning in my career, I would need that human connection. I went into medical school knowing that I would focus on OBGYN and women's health, in no small part because I was inspired by my own OB. To be able to help patients navigate such a personal and vulnerable time in their lives drives me and gives me a sense of purpose that no other field could provide. Reproductive Endocrinology and Infertility is the perfect marriage between my science and technology background and my passion for patient care.
2. What is your favorite thing about working with patients?
Dr. Gerber: It is such a privilege to help patients create a family and to contribute to the uniquely beautiful ways that families of all shapes and sizes come together. It is both humbling and uplifting. I enjoy learning about my patients medically and personally, not only to achieve a successful outcome, but so they feel cared for and dignified in the process. My role is to help patients and their families navigate the physical and emotional road while maintaining a sense of focused calm and hopefulness.
3. Is there a particularly memorable or challenging case you've had in your career?
Dr. Gerber: I worked with a 16 year-old trans male who was about to start testosterone therapy but had made the difficult decision to undergo egg freezing prior to his medical and surgical transition. He had a maturity and self-awareness well beyond his years and articulated a unique set of concerns that we worked together to address. We performed the stimulation using only abdominal ultrasound and maintained an open dialogue to ensure that he felt comfortable and respected throughout the process. It was also heartwarming to see his mother accompany him to every visit and ultrasound and to provide her unwavering support.
4. What has been the proudest moment in your career?
Dr. Gerber: Working with my first IVF patient as a fellow. She had blocked fallopian tubes and had spent years saving money to afford a single IVF cycle at age 42. She put her trust in me and I wanted to give her the greatest chance for success in the face of numerous obstacles. I held her hand along the way—both literally and figuratively—and she asked me to perform her egg retrieval and embryo transfer, even knowing that I was still in training. I will never forget the moment we received the positive pregnancy test and the emotion in her voice when I shared the news. I also remember the sigh of relief that we took together when we first saw the heartbeat. I was so happy for her and humbled that I was able to participate in her fertility journey.
4. If someone is considering seeing a fertility specialist, what questions would you recommend them asking?
Dr. Gerber: A critical point of inquiry is what other services are available in their current practice. Infertility care requires a multidisciplinary approach that includes embryologists, mental health counselors, male fertility specialists, genetic counselors, nutritionists, and wellness staff. It is important to understand the breadth of the practice and the availability of these experts so as to streamline the process and facilitate communication amongst the providers. One of the main reasons that I chose to join Reproductive Medicine Associates of New York is so that my patients have seamless and comprehensive access to an entire team of professionals. Patients at RMA are surrounded by a multi-disciplinary team focused on supporting them and coordinating their care.
6. What stigmas about fertility or IVF do you wish you could end?
Dr. Gerber: I'd like to help prepare patients not only for the successes of fertility treatment, but for the journey of pregnancy and parenthood. I personally feel for our patients who struggle with feelings of guilt and sadness, and aim to create support systems so that patients feel better prepared for the challenges of pregnancy, post-partum, and newborn care. . Pregnancy is hard. Caring for a newborn is hard. You are allowed to complain! You are allowed to ask for help!
7. What do you like to do to relax? Hobbies? How do you spend your free time?
Dr. Gerber: My free time (if you can call it that!) goes to my boys, aged two, five, and thirty-six (my spouse)! My husband and I have spent these last few months being teachers, camp counselors, soccer coaches and friends to our sons, Max and Sammy. We have enjoyed every moment (at least that's the party line!) but I know the boys are itching to get back to their pre-COVID lives. For us, that meant a lot of time outdoors, movies and concerts, and getting together with our extended family and friends. Until then, I'll be baking and watching Netflix like everyone else!
8. What words of encouragement or advice do you have for individuals seeking fertility treatments?
Dr. Gerber: Infertility care is more like a marathon than a sprint. Physical and mental preparation and support systems can be invaluable.. You are not alone and there is no place for blame, shame, or guilt. Be open to new definitions of success, and hopefully you will soon achieve your goals.
Dr. Gerber is now seeing patients at RMA of New York's Eastside and Westchester offices. Call 212-756-5777 to schedule an appointment with her today.