For Female Couples Co-IVF is on the Rise
Over the past decades, the definition of 'family' has expanded beyond a traditional heterosexual couple. Today, unmarried, single parents, and lesbian, gay, bisexual, and transgender singles or couples are finally recognized as families. Despite this more inclusive definition, reproductive technologies to assist non-heterosexual couples create a family have remained limited. Until now.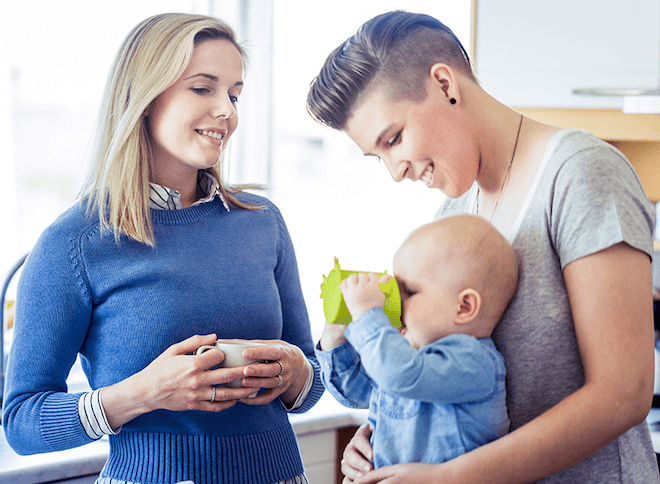 Co-in vitro fertilization (Co-IVF) is the latest fertility treatment for same-sex female couples, or any two people who both possess a uterus. This procedure gives each partner the opportunity to physically participate in the reproductive process. One partner provides the eggs and the other partner carries the embryos during an IVF cycle. A critical component of Co-IVF is choosing each partner's role during the process. There are several factors that go into this decision. Co-IVF allows each partner to contribute in the way that is best for their reproductive health and the health of the future child. Perhaps only one partner has quality eggs and the other a healthy uterine environment. One partner may exhibit ovary dysfunction and the other may have had their uterus removed due to a medical condition. These situations, formerly viewed as obstacles in the path to parenthood can now be overcome as a result of Co-IVF. Additionally, Co-IVF can foster the choice that best fits each partner's preferred role as a parent (i.e. genetic contribution versus carrying and delivering the pregnancy.)
RMA of New York is committed to supporting LGBTQ+ couples on their fertility journey by making sure they are aware of all their family building options. Co-IVF is a newer option and on the rise for couples in which two uteruses are present, but it is by no means the only option available to create a family.
Donor intrauterine insemination (DIUI) is also a commonly used method that is simple and can be quite effective. One of the partners is inseminated with donor sperm and carries the pregnancy.
Another option available is traditional IVF using a donor sperm. An egg is fertilized outside the uterus using a donor sperm and then returned to the uterus with the goal of implantation and further embryo development.
While the approach involved in each of these procedures is slightly different, the end goal remains the same: a successful pregnancy. RMA of New York provides comprehensive fertility care customized to patients' needs to ensure that they select the best option for them and their family. Additionally, RMA of New York provides patients with access to a full network of egg and sperm donation and gestational carrier resources so no option is overlooked when determining the best way to build a family.
Family building has transformed dramatically with advancements in assisted reproductive technology. As more LGBTQ+ couples utilize reproductive technologies, social acceptance widens, and the perception of parenthood redefines itself. Co-IVF offers female and transgender non-confirming couples greater flexibility and the unique opportunity to engage in a shared biological parenthood.