Fall Fertility Forward Recipes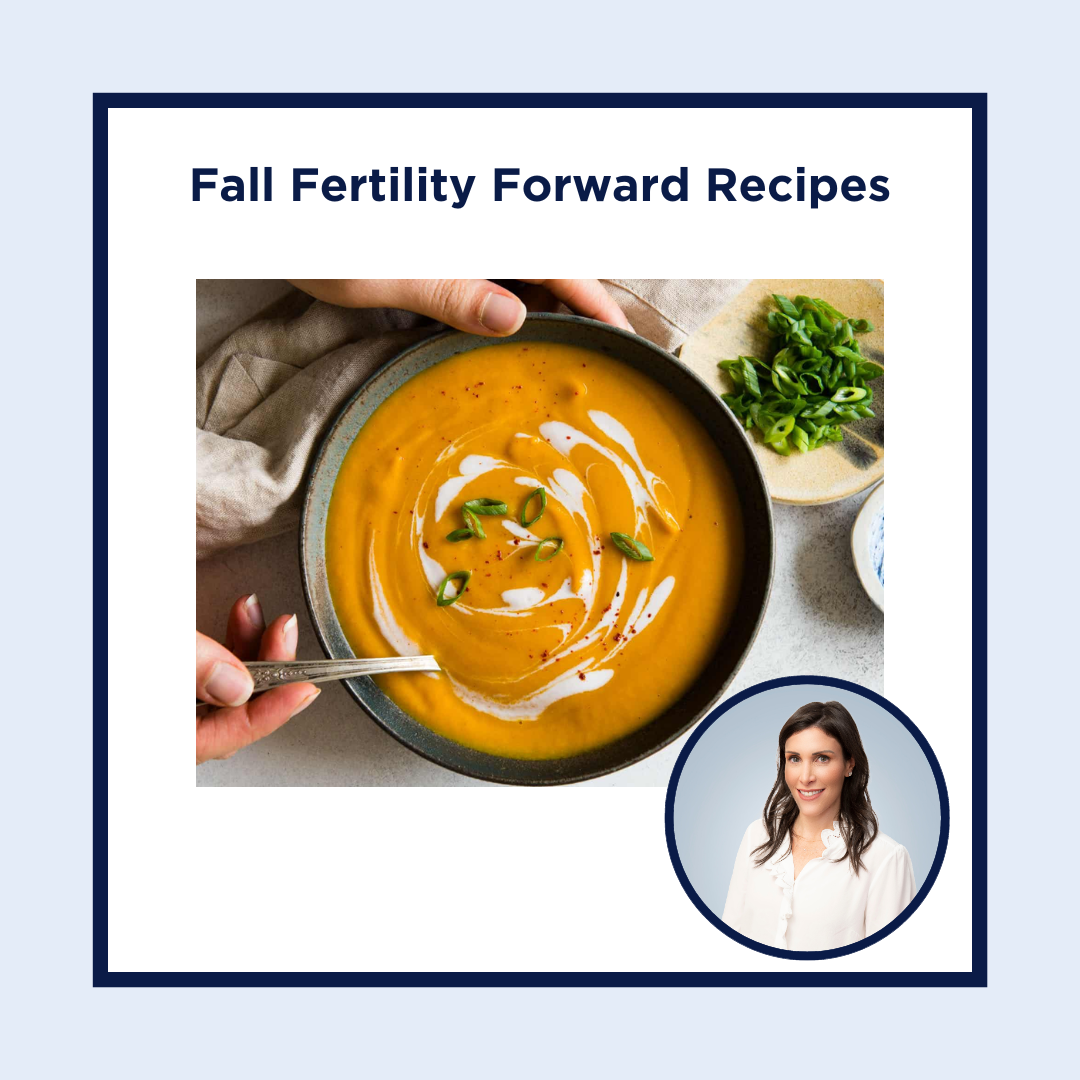 This time of year is a great opportunity to make use of the seasonal produce available. Lindsay Nakash, MS, RD at RMA of New York – Westchester, has sourced two of her favorite fall recipes. Not only are they filling, but they are nutritious and offer health benefits. Not to mention, they're not too challenging to make for those whose kitchen skills may not be as advanced.
Creamy Carrot and Sweet Potato Soup
This is a super hearty and filling recipe, perfect for the colder temperatures and for a crowd at the holidays. Sweet potatoes are packed with Vitamin C, an antioxidant essential for immune system function. Sweet potatoes contain plenty of fiber which is good for gut health and can help lower cholesterol.
Ingredients:
1 medium yellow onion, diced
12 large carrots, chopped into ½ inch pieces
2 medium sweet potatoes, cubed (can us regular potatoes or even try with cauliflower for a lower carb option)
4 cups broth (vegetable, chicken or bone broth all work here-try bone broth for added protein)
1 can coconut milk (can use Greek yogurt here for a protein boost)
5 cloves garlic, minced
1 tbsp avocado oil
2 tsp crushed fresh ginger (or 1/2 tsp of dried ginger)
1/2 tsp dried thyme
1/2 tsp salt
Instructions
In a large pot, sauté the garlic and red onion in avocado oil until fragrant. (4-5 minutes)
Add the fresh ginger and thyme to the pot and sauté for a few more minutes.
Add the remaining ingredients to the pot and bring the mixture to a boil, then reduce to a simmer for roughly 30 minutes. Using an immersion blender or regular blender, blend the soup until it is well combined.
[Recipe adapted from Rachel Mistry, MS, RDN]
Pumpkin Hummus
Hummus is a fun way to add pumpkin to your menu this holiday season. Pumpkins are rich in beta carotene. Your body changes this antioxidant to vitamin A. You need vitamin A to see, ward off germs, and for your reproductive system to work properly. Vitamin A also helps your heart, lungs, kidneys, and other organs stay healthy.
Ingredients
1 can of chickpeas, drained and rinsed
1 can of pumpkin puree
2 Tbsp tahini
2 Tbsp lemon juice
2 Tbsp olive oil
1 tsp salt
1 tsp paprika
1/2 tsp ground ginger
Instructions
Add all ingredients to a food processor and puree until smooth.
Serve with crackers or veggies of your choice.