Ep 113: Creating Community, Driving Results with Lauren Berson
April 27, 2023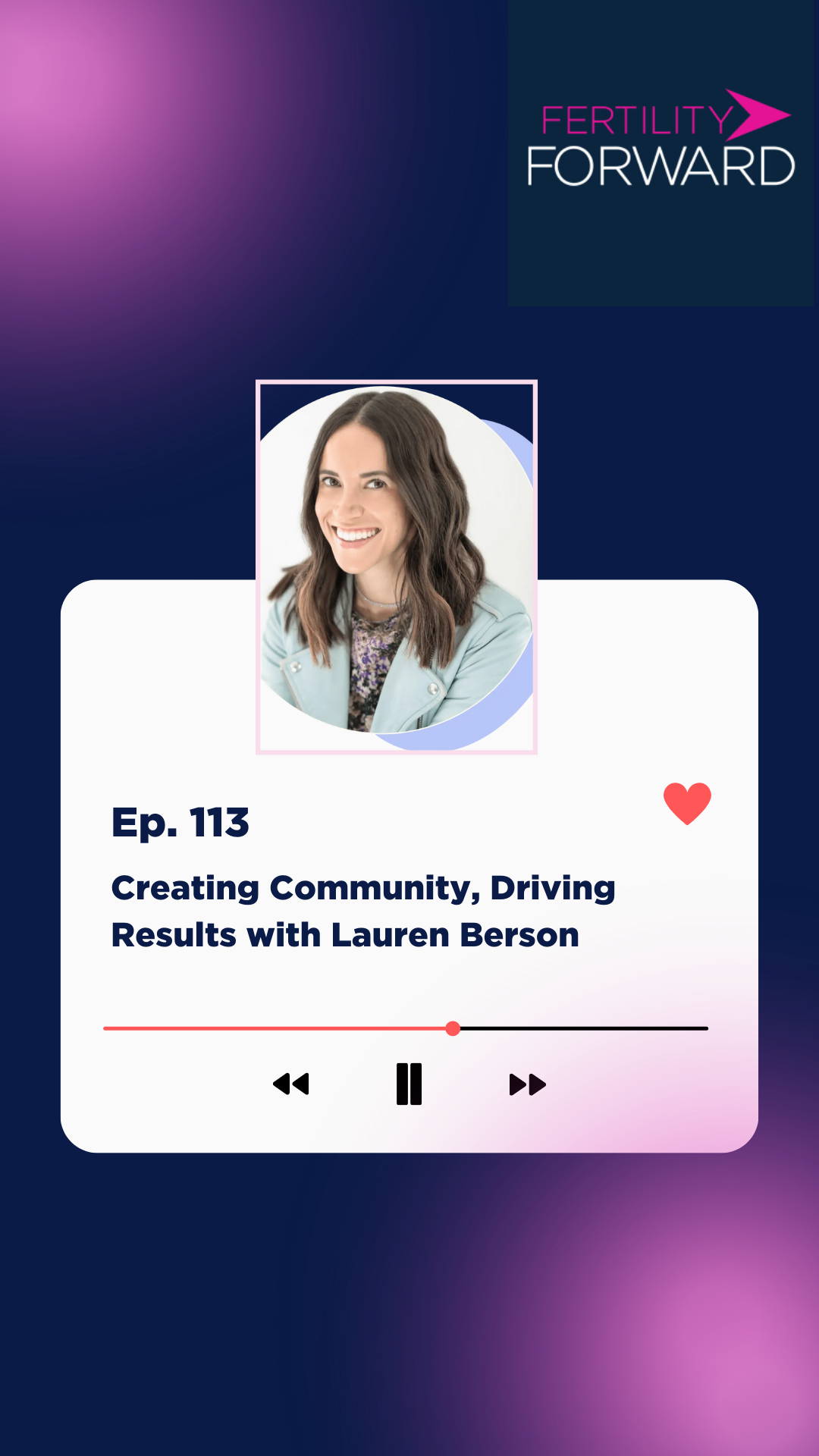 Fertility Forward Episode 113:
Stigma, shame, isolation, and a lack of patient education are commonly associated with the fertility journey. Today's guest, Lauren Berson, knows this firsthand from the three years she spent going through failed treatments, a miscarriage, and being provided with false information. A combination of Lauren's personal and career experiences inspired her to found Conceive, the solution to so many of the pain points of infertility. During this episode, Lauren talks about the types of supportive and educational resources that (link: Conceive offers its members, the benefits of being part of the Conceive community, and the measurable patient outcomes that they are working towards achieving as a company. The fertility journey can take over your life; Conceive can help you take it back.
Stigma, shame, isolation, and a lack of patient education are commonly associated with the fertility journey. Today's guest, Lauren Berson, knows this firsthand from the three years she spent going through failed treatments, a miscarriage, and being provided with false information. A combination of Lauren's personal and career experiences inspired her to found Conceive offers its members, the benefits of being part of the Conceive community, and the measurable patient outcomes that they are working towards achieving as a company. The fertility journey can take over your life; Conceive can help you take it back.
Rena: Hi everyone. We are Rena and Dara and welcome to Fertility Forward. We are part of the wellness team at RMA of New York, a fertility clinic affiliated with Mount Sinai Hospital in New York City. Our Fertility Forward Podcast brings together advice from medical professionals, mental health specialists, wellness experts, and patients. Because knowledge is power and you are your own best advocate.
Rena: We are super excited to welcome to Fertility Forward today, Lauren Berson. She is an executive turned entrepreneur with over 19 years of experience building brands, products, and communities across a diverse set of industries. Lauren is the founder and CEO of Conceive, a digital health platform aiming to change fertility outcomes and experiences through community evidence-based education and coaching. Her focus on this problem and intention behind the company is deeply personal. She welcomed her daughter into the world after three challenging years, filled with heartbreak, misinformation and failed treatment. Conceive as a solution she wished she had. Conceive was recently recognized as one of Fast Companies most innovative companies of 2023. Prior to Conceive, Lauren was VP Global head of Strategy and M&A at WW, formerly Weight Watchers, a senior partner at Andresen Horowitz and strategic product partnerships lead at Google. She's an active angel investor and advisor. She also serves as a board member for the JCCA, a child welfare agency in New York City. Outside of work, Lauren spends time with her curious three-year-old daughter, paddleboards, takes beach walks, and explores nature. Thank you so much for taking the time to join us today from sunny Miami.
Dara: Beach walks make sense now. I think that sounds pretty amazing!
Lauren: There's like three months of the year to do that where I live, but I'm so thrilled to be with both of you. As I mentioned, I've been a long time follower of both of yours. I've listened to the podcast and now that we're working with RMA, we're just excited to chat today.
Rena: Yes. So tell us about this amazing resource that you created and again, so amazing to have someone else on who created something out of your own experience because there was a lack of something and you wanted to make it better.
Lauren: Yeah, and it's hard to talk about Conceive without kind of talking a little bit about my background, the two are so deeply intertwined as you mentioned. I spent the last couple decades really building products and communities in my professional life. I did this across small startups, big companies like Google, inventor Capital in the trenches with our founders in the early days, really connecting them with companies that would generate millions of dollars in revenue. And then I did a little bit of a pivot into Weight Watchers, which was a bit non-obvious from the outside looking in. But there were two pieces that compelled me to the company that are super relevant to what we're building at Conceive. One is I sat at Andreessen and saw this proliferation of wellness companies that were all point solutions. So you know, if you know how to take care of yourself, which by the way most of the world does not, you can find your yoga app or your sleep app or your meditation app, right? But what was so confounding to me was no one was bringing these pieces together and the reality is how you eat affects how you sleep, affects how you move. They're so intertwined and Weight Watchers was trying to do this. They were trying to extend their value prop beyond just weight loss. They brought me on to help. I launched our sleep, fitness, and meditation products, which not only extended the value prop of the company, it also extended the lifetime value of the customer because there was more to stick around for. But the other piece I was so drawn by was my whole life I've been building communities in real life, health and communities, right? These kinds of conversations used to be in person, especially in the pre covid world. And I had never done this digitally. And when I saw their digital community, I was blown away. It is by far the most positive place on the internet. I don't know if either of you have checked it out, but you have people in a highly stigmatized space sharing everything, right? Being highly, highly vulnerable saying, Hey, I haven't gotten out for a walk today. I'm just moving my body for the first time in three years and everyone's in your corner cheering you on. It's just this like, beautiful, palpable, contagious thing. And I wanted to learn how to do that because as it turns out, when you're able to be vulnerable about a health condition, you're more able to stick to a plan, demonstrated by research. And so I'm doing this and I was already going through my own infertility journey, which consisted of three long years, a miscarriage at a year and a half after hearing his heartbeat at nine and a half weeks and six different doctors. Definitely privileged to be able to kind of check things out on different coasts as I was living between San Francisco and New York. But I was so struck by the fact that actually the pain points I was experiencing were the ones we were solving with Weight Watchers, which may sound funny, but I'll bring you along. One is that isolation, stigma, and shame, right? We feel like we're alone in these journeys. It doesn't seem like anyone around us is going through this. Especially in 2017 when I was just getting started. No one was really talking about this on social media. We're forced to form these underground communities of women and men who are suffering in silence, who are just looking for support, right? And what I realized was the moment that I opened my mouth, it was like the floodgates opened. I heard from friends and strangers and people I hadn't spoken to in decades. Reaching out and saying, your story sounds like mine. Can we talk about this? I was so struck by that. And I would say, well, things have shifted in the last six years. We're still in a place where you have to be in a place of privilege to be able to scream from the rooftops that you're going through infertility, right? There are professional implications to your career, cultural implications to talking about it. The list goes on. And then secondly, on the weight loss side, it's really about, teach me what to eat. Right? And Dara, I'm sure you have a lot to say on this note. We could talk about this and geek out for a while. So there's that education basis. And infertility, the kind of parallel I talk about is really that care navigation. It's a really complex patient journey. You both know this firsthand, right? You're seeing three to five specialists. You're doing multiple tests and treatments. There are add-ons here and there, right? That people are introducing to you and your head is spinning. And your resource, your primary resource, even if you have the best REI and nurse staff in the country tends to be Dr. Google, right? Because in between those conversations or maybe those doorknob conversations where you're too nice to ask the doctor the other question that you have or you feel like you don't have the time that you need. I wondered how we could fix this, right? I wondered if you didn't have Dr. Google but you actually had a trusted resource 24/7, what would happen? And as it turned out, when I spent time with hundreds of other patients mapping their journeys and pathways, there were a lot of these sort of if only moments, right? If only I knew there was such thing as an REI, I was with an OB for two years and I had a lot of complications. Or if only I found out about my endometriosis earlier. On average it takes 7to 10 years to diagnose. I could have treated that and then had better outcomes sooner. And I wondered why not, right? So Conceive's solve is really on those two pain points and infertility that I mentioned. Isolation, stigma, shame, and then patient education and care navigation. And really the way we solve that is two main components. One is 24/7 coaching. We offer coaches who are both peer coaches. So taking a chapter out of the Weight Watchers playbook, again, who've been in your shoes, and have that level of empathy and understanding of someone who gets it and can validate, you know, the stress that you're going through. But then also nurses from some of the best clinics in the country available 24/7. And so we're on call for sort of the acute questions of, oh my God, I'm starting my IVF cycle. I don't have the right medicine, or I don't know how to do this shot to, I'm bleeding and I just had a positive pregnancy test. What do I do? And everything in between, or I'm just getting started. What does tracking ovulation mean and which app should I use? But we're also there just to share tips and tricks throughout the week. We have kind of mapped these clinical pathways, identifying where members are in their journey and then suggesting the three things they should focus on that week. And that's the core of the product experience. We have a library of educational resources. And then the second piece is really this community. So on the community front, we're really focused on creating a safe and relevant space. There are thousands of Facebook groups out there. We don't wanna be just another. What we do is we pair you with those who are on a similar journey. So groups of 6 to 10, highly curated. So if you're several years in and doing IVF, you're in one group. If you're just getting started, you're in another. And everything in between. The goal is that you look around that virtual room and you feel like you found your people. 60% of our members actually organically connect one-on-one because they've met some of their best friends. They're flying to each other's cities to meet in person. They're texting each other back and forth all day long to get through it. It's a really, really powerful community.
Dara: Wow.
Lauren: So that is this sort of long-winded but succinct enough version of what we do at Conceive,
Dara: That sounds remarkable. Like what a platform really to address all of the needs for, for the community. So having the community, which I think, I know Rena probably agrees with me, like we wish we had the support group. And then on top of that, the educational component. I think, you know, a lot of times people can feel they have so many questions and not necessarily the right place to find credible answers. And then on top of that, to get the 24 hour, you know, support, I do feel like it's like a one stop shop for everything you need.
Lauren: Yeah. That is what we think about it. Right? And I think what's really interesting is when I was sort of, you know, looking into the space and trying to identify the problems, I spent a lot of time with REIs as well, right, to understand like where could we fit in to be actually complimentary, right? Cause the goal is that we could support clinics and support the doctors and the nurses on call who have hundreds of calls to get through in a day and don't always have the time, as you guys both know, because you also fill in in these places to handle the more holistic approach, right? Some of those mental health aspects when a patient is maybe spiraling. And I've been that patient that's been me calling again and again and being like, but why did my IVF cycle come out so crappy? Right? Like, why were so few mature and why did so few fertilize and asking sort of the same questions over and over. And our goal is to be able to support clinics and to support patients so that they have this place they can go to that feels safe and that really changes their sort of overall mental wellbeing, right? So our goal on the whole is outcomes. So that's our North Star. We're not just tracking like, engagement and number of, of members We're focused on how many pregnancies do we have? How many new diagnoses do we have? Are members saying that they feel less anxious, do they feel more optimistic? Do they feel, feel more grateful? We mapped the PHQ nine and we're looking at ways to, to go even deeper there to really identify, this journey can take over your life, but how do you get a little bit of your life back and a little bit of that control in the ways that makes sense for you?
Rena: I'm just so happy that someone recognized this. I know this, I've been doing this work for a long time. I went through it myself and I think it's so interesting and how fortunate that you had this experience at Weight Watchers and saw the the power of community, of groups, of being vulnerable and the support and you were able to translate it into this space where it is just so needed. And unfortunately, I think so under-recognized.
Lauren: Completely, completely under-recognized. It's interesting cause I think there are a lot of smart people now starting to build in this space. But whatever someone says it's crowded to me, I giggle because I think there's so much more that we need to do. Right? As you know very well, Rena, like 40% of patients experience depression and anxiety. Those levels can reach that of cancer patients. Like I can speak for myself honestly quite candidly. Like this took over my life in many ways. I didn't even realize until many years after, right. And took away a little bit of my spark, which I'm just kind of gaining back. And I think if I had somebody - this weekend, actually we have a new member who joined us and she happened to get pregnant on one of the first weekends that she was a member. She got a positive pregnancy test. She sent in a note, she sent in a bunch of notes, right? I'm having cramping, I'm having this issue, I'm having that issue. And she said, is it normal that I just feel so anxious? And I was like, yes. It is. You know, and that's why we're here. Right? And she was so grateful that there was just somebody on a Saturday morning at 9:00 AM that was there to just like chat with her for a little bit and validate that how she's feeling is completely normal and that we were here for her for any specific questions and we could kind of help her get through the day and a more relaxed way.
Rena: I think that's great. I mean, I would say probably the highest stressor of my job is the time sensitivity because I understand, you know, answering someone's questions, it will take maybe two or five minutes of my time, but I don't like to make people wait because it's like, why make them wait through a weekend or have to try and sleep that night when I can take two minutes to answer their question. But obviously I'm one person, so that can be stressful. And so like, you know, I see a lot of companies, as you sort of mentioned, try and enter this space to support people going through the journey, which is amazing. But something I always ask them is, well, do you have community? Do you connect people? Do you have people on call? Or is this just, you know, an app where someone can go through it and get coping mechanisms? And what I love about yours that sets it apart is you have the, the real time, you have the people, you have the community, you have the support, and that's really what people need.
Lauren: Yeah. You know, one of the other interesting things that I learned while I was at Weight Watchers was like the definition of community has gotten a little like, muddied over time. I don't think we all define it the same way, right? Some use it to mean like followers on Instagram, right? Which in a sense that's a community sort of more like one-to-many community versus sort of like really engaging one-to-one. And that was the reason that I joined Weight Watchers was to really get a crash course and like, how can you build a safe space like this where people are literally saying all the things that usually they would not say out loud. And I learned a few things. I mean, one of the things with community that you wanna create is you wanna be able of course to validate what your members are going through. You want them to feel seen and heard. You also want them to feel like they have some influence and that doesn't always mean in the sort of influencer sense, like giving them a spotlight in a way where they have, you know, thousands of followers. But it's, it's really about like allowing them to share their story, right? And feeling like that might matter to somebody. But the other piece is really and what I think a lot of folks don't necessarily understand about building community is driving results. So you want to organize your community in such a way that you're actually driving results. And that's why Weight Watchers has been so successful because everything that they do is oriented around the program, right? And the program very, you know, statistically speaking works, right? And so similarly, that's why it's always been our focus to change outcomes and not just to deliver, you know, a group of folks going through a similar journey, which I think is also powerful in and of itself. But if you could organize and design a program that actually drives results, that's where I think the real power comes in. And the last thing that's really, you know, I think intuitive but hard to do is just being really maniacally clear about why you're there, right? If you're very clear from a brand ethos perspective of like who you are, what you believe in, why we're all congregating together, you're not really gonna have those bad actors that we see in lots of sort of more free for all platforms like Twitter, et cetera, right? Where there's a lot of negativity and trolls. But if you're very clear and the community is regulating that, that's really how you can win.
Dara: I find it also fascinating you said like results that you're really into the results. I think the community and the results, I think it can be intertwined. I think, you know, having a good support system can really help in the process. And same thing with Weight Watchers. You know? Yes. What you eat can play a role in the goals that you're looking for, but I think it's the community aspect that really does help drive those positive results.
Lauren: I totally agree. I do think like one can be get the other right? Yeah. Because you're looking at a space that's like, again, still on the whole hidden in the shadows. Like what I found was there were these underground networks we were forming of like acquaintances, right, where I was talking to my husband's friend from college's wife, we had never met in person, she had four miscarriages and now has two kids. And I would call her all the time and say, Devin, what about this? What about that? Right? And she became kind of like my lifeline. And what happened would be she would tell me one thing that worked for her, or she'd tell me many things that worked for her, some of which would not work for me, but maybe there was one nugget of wisdom and that would kind of continue and proliferate. But to your point on top of that, it was just having that outlet, right? And bringing that to people in a way that is removed from their personal orbit is actually really important, right? Research shows that you're more willing to rely on an acquaintance you see as an expert and on someone you know well, and I think you guys all know very well how tricky our personal orbits become infertility. It seems like everyone around us is blinking and getting pregnant. And even if you've never felt jealousy in your entire life, it seeps in, right? And even when a friend may be going through it at the same time as you, maybe the boundaries aren't right. And maybe they're checking in every day and they're saying, Lauren, how are your results? You know, what did you get? How many eggs did you get? And it's like, ah, I don't wanna talk about it. What we find that's really powerful in our groups too is there's this beautiful thing about the way that we bring our members on a continuum. They start out really setting the stage and sharing their stories. And even though every story is so unique, right? And you guys know this extraordinarily well, there's no like no two of the same really in an infertility. They are able to really understand the challenges that that member has experienced. And so when there are wins, when there are pregnancies, and that's the goal, right? They're actually able to be really happy for each other, unlike with their personal orbit where when, when their sister or sister-in-law or best friend or acquaintance tells them they're pregnant like the ire sends in, it's pretty magical to see.
Rena: Yeah, I always talk about weak link connections with clients and how important that is, which is, you know, sort of similar to what you're talking about, the people that are not in that personal orbit, but that are people you can talk to. You know, maybe it's a barista you see every day or your doorman. There's less pressure. And so I think it's so important to form those connections as you're doing with your groups while going through something like this.
Lauren: Taking it out of your day to day is so key.
Dara: I find that people could be a lot more vulnerable sometimes with strangers than they can't. I loved it. You said at the beginning something about the more vulnerable you are, the more success. I thought that was such an interesting link.
Lauren: Yeah. You know, it's interesting, there's a study I came across when I was really kind of putting this all together that those who are able to be vulnerable about a healthcare journey are more able to have success because they're, I guess the, and Rena, you probably can digest this better than we can, but like there's an understanding and awareness of it, right? Which is like with anything in, in sort of mental health space that I think allows them to beget, you know, action by acknowledging what's going on and sort of saying, here's where I'm at. They can actually progress down a continuum.
Rena: Totally. Yeah. I mean, and that's part of a grief process, right? Is acceptance.
Dara: And I also think, you know, physiologically, I think when you are vulnerable you really can let go a lot of those things that you're holding onto. So that alone can be helpful. Hormonal, all about
Rena: We're all about letting feelings flow through us otherwise they get trapped and manifest in, you know, negative ways.
Lauren: Oh, it's very real. We do a lot of gratitude exercises with our groups too, which I think are helpful to counteract like the natural way that we just kind of like are in fight or flight mode.
Rena: Yes. So tell our listeners how they can get involved with this. Where can they find you? How can they join?
Lauren: So you can join us at weconceive.com. We have a couple of different membership options. One is our digital-only membership, which is $29 a month. And that includes 24/7 coaching with a group of coaches, both peer coaches and nurses. You're not paired with a specific team, but we're on call 24/7 and we have specific windows of time when we'll get back to you. And on top of that we have those action plans I mentioned, which are really us programming for you based on where you are on your journey, what are the three things you should focus on that week that covers sort of the medical aspects and that can be anything from new research to reminders if you're in a cycle to mental health and just overall wellness. What's the real TLDR as we say on exercise and whether you should exercise while you're trying to conceive? Everything we do is really research-backed. And what that means is we try to break down in digestible bite-sized formats what research is saying. There's a lot of great space infertility, but if something is established evidence, we'll tell you if it's emerging, we'll tell you if it's early, we'll tell you. And if it's just just someone's opinion, we'll tell you. We find that our members are really data driven and they're looking to see if there're randomized control trials on things and they wanna understand, right? You guys know I see those nods of acknowledgement, they wanna know where things stand. We'll share that. And then we have our library of resources that you get access to. If you are looking for community, that is our premium membership and that is $129 a month and that comes with a dedicated team, so dedicated coach and nurse, and eight weeks of programming with a peer group of 6 to 10, again curated based on where you are on your journey. In addition to the programming that's led by the peer coach, we have REIs, we have embryologists, we have doctors of Chinese medicine, we have mental health professionals, a whole slew of professionals that come in to lead sessions based on what that group is looking for. So it's very bespoke. For example, we just had a group, they'd all been doing IVF for several cycles, so they were, you know, kind of very familiar with the process. We had Taraneh Nazem, who's our first REI advisor from RMA of New York joined to lead that session and she was really going through protocols and why they change for IVF and why they may not change, right? And then answering questions. So it's a great way to just go deeper and understand and get maybe a different set of eyes on what's going on with you. That group runs over the course of eight weeks and then there's an opportunity to continue depending on what your desire is. And the beauty of Conceive is we also support you through pregnancy, right? Our goal is for you to get pregnant and for you to get all the information you need to actually figure out how to get pregnant quicker. And so we're a pregnancy support program as well and we have many members who are pregnant and then we continue grouping them together in community groups so that they have that support through the early days of pregnancy, which can also be equally stressful.
Dara: And it sounds like also for people who wanna be coaches after, there's other opportunities for that as well.
Lauren: Yes. What's beautiful about our coaching model is our members become coaches and that was again taken from the Weight Watchers playbook where those who had success became coaches and we have a very similar model. Our coaching team is headed up by a former high school teacher who went through 15 rounds of IVF, who's absolutely incredible and also just has that perfect way of interacting with groups to both allow them to connect as a community, but also kind of like deliver on a learning objective if we're focused on a particular topic during that week. And that can vary from actually, you know, conditions, but also like a lot of it is around the mental health piece and just sort of like how do you make sure you're not losing yourself. If you're a patient of RMA of New York, we have a very special relationship and partnership, so you actually get 20% off for a year of Conceive membership, which is really exciting.
Rena: What an amazing program. And I love that you continue through pregnancy as well because I think so many people think, you know, all the anxiety or feelings sort of stop once you get a positive beta. But of course, as we know, then we just sort of start a new chapter and we need to work on those feelings as well.
Lauren: Yes. Our vision has always been to be the platform there from menstruation through menopause
Dara: Oh good. I was gonna ask, I was like, ok, postpartum and then menopause. I think that's phenomenal.
Lauren: Things don't end as we know, right? I think we started obviously in an area I know personally very well, but also in an area of really high intent, right? When you're trying to get pregnant, it is the number one thing on your mind, you will stop at nothing. And there was such a glaring gap in this space. You know, the alternative to Conceive, and this is why we have like a 79 net promoter score, right? The majority of our members say they would highly recommend us to a friend, is because it's Google searches, it's Instagram rabbit holes, it's random books that a friend has told you about. It might be a Facebook group, which by the way can be helpful but also can be stuff that's shared that's not safe, right? It's not vetted by doctors. And so we wanna be there throughout and we wanna grow with you and that's what we're already doing. So we have a number of Conceive babies already and we know the questions don't stop once you're pregnant. In fact the anxiety pours in. You're constantly looking to make sure you're still pregnant, especially before the baby is kicking. You have questions about different tests to do and eventually we'll grow through postpartum and beyond. And the other thing I'll say is one of the things that's really near and dear to who we are as a company is really just helping shake the stigma but also shake the stigma around infertility being this like women's health issue. One of the things that sort of boils my blood is sort of the way that we talk about, you know, fertility companies as Femtech. And not just because the term is silly, but because it overlooks half of the equation, right? Male factor infertility is 50% of the cases and yet we like, lump this into a women's health issue because the woman carries the baby. But if you're part of a heterosexual couple, it's the first thing that you should do in our perspective, is just to have a semen analysis on, right, while you're starting to get poked and prodded on the women's side. If you're part of a heterosexual couple, it is easy, cheap, and pleasurable like, you can't beat it. And there's literally no reason to overlook it. And yet we see time and time again patients who get ready to do IVF and maybe they find out their partner has no semen or has, you know, challenged sperm quality and, and this notion of the biological clock only applying to women for eons and eons is just really starting to be unraveled, right? We know that not only does semen regenerate every 90 days, but there are things you can do on the lifestyle side to improve semen parameters, but also it doesn't last forever. Yes, there are older, older men who can get pregnant but, or who can inseminate an egg, but like there are issues with that and complications. And so that's one of the things we really think a lot about. And while we primarily serve women today, because as you both know, that patient journey, right? When you map that out, it usually is the woman navigating for two, which is really fun, right? Not only do you get to navigate yourself, but you're like trying to piece this together for your male partner if you have one. So that's one of the things we're really thinking about. So in addition to sort of helping from menstruation through menopause on the fertility side, we really see ourselves, we're a health company, right? We're not a women's health company. We have to serve both. And we talk a lot about both regardless of who we're talking to.
Dara: That's great.
Rena: Yeah, I love that you have this whole, you know, comprehensive perspective.
Dara: I'm really impressed and I cannot wait to share your platform with all of my patients. I'm really, I'm so impressed. Anything else that you kind of wanna share with our listeners? Where does the company going? I guess you kind of mentioned men and, but anything else that you kind of wanna share?
Lauren: Yeah, you know, I think a couple things I'll leave your, your listeners with. You know, I think fertility is sort of, you know, a way to understand your overall health. I think one of the things we think a lot about in addition to kind of serving women and men throughout their journey through the reproductive years and beyond, I think one of the exciting things that we're doing now is really partnering with fertility clinics. That's something we're really pumped about. We just kicked off with RMA of New York, which we're thrilled to really support you and our goal is to help kind of offset some of those questions, bring members the answers that they need at the time that they need them, that supports the overall patient experience. So that's really the direction we're, we're really thrilled about and we're seeing a lot of, a lot of traction. But we have our Conceive 10 commandments. Go to weconceive.com, you can check out more about us and if you are a patient of RMA of New York, there's a special discount for you. So inquire with your staff.
Rena: Well thank you so much for taking the time to come on. It has been such a pleasure to hear you speak and learn from you. And as Dara said, I mean I've been sharing with my patients, I'm so excited for so many people to hear about you and sign up because I think this is, I mean just exactly what people need. I know I certainly could have used this when I was going through infertility myself.
Lauren: Thank you both. This is my life's work. There's nothing that gives me more joy and pleasure, so I'm thrilled to share it with you and with your listeners.
Dara: So Nice. So how we end our podcast is words of gratitude. I know you do gratitude in your office, but what are you grateful for at this very moment, Lauren?
Lauren: I'm grateful for my team. My team at Conceive. I, this, a year and a half ago was like just an idea in my head that I had been obsessing over for many years. And so I'm just so grateful to have been able to turn it into a reality and to be honored with something like Fast Company's, you know, Most Innovative Company Award was, was just thrilling. We don't need that to keep going, but it's really nice to see external validation of what we're doing in the industry. And I'm grateful for my family, who's my number one team. My angel daughter Elle, who's now three years old. She is life, she is sunshine and she brings me so much gratitude every day.
Dara: So pretty. Rena?
Rena: I am grateful for, I'll go with my daughter as well. She is also my life and my sunshine and my little fiery independent spirit. And she is, is definitely the light of my life. So Suri, this is for you, especially today. Dara, what about you?
Dara: Oh, well, I feel like I need to say my kids, which definitely they're on my mind constantly. But I was actually thinking about my community, which I guess includes my children. But my friends, my colleagues, strangers who come into my life, who help me become more vulnerable. But just the people around me who really help me on this life journey, I'm just, I'm grateful for the people I meet every day and for people like you. Lauren, I'm just so thrilled that you're now in our circle.
Lauren: Oh, I'm so happy to be here.
Rena: Well, thank you so much and we cannot wait for our listeners to hear about this and to keep spreading the word about this amazing, amazing thing you've created. So we are both so grateful for you and so happy that you have come on board at RMA to add to our patient experience.
Lauren: Thank you both. This was such a pleasure.
Dara: Amazing.
Dara: Thank you so much for listening today. And always remember: practice gratitude, give a little love to someone else and yourself, and remember - you are not alone. Find us on Instagram @fertility_forward and if you're looking for more support, visit us at www.rmany.com and tune in next week for more Fertility Forward.