Recipes for Fertility & Beyond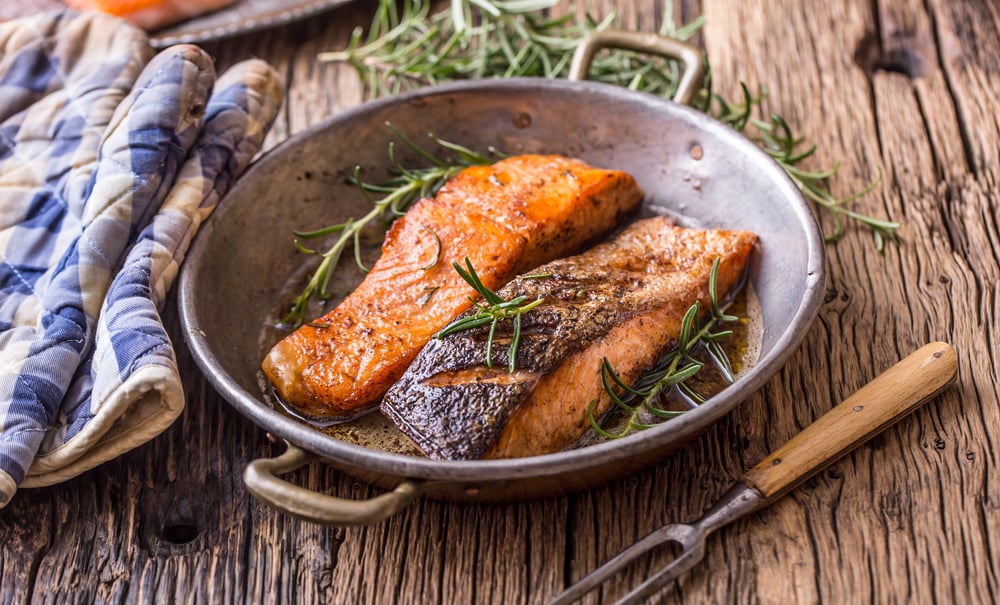 Eating healthfully is important for your general health, but it is particularly important to maintain a fulfilling and nutritious diet when you are trying to conceive or are already pregnant. Here, Dara Godfrey, MS, RD, details one of her favorite meals for those trying to conceive and the reasons behind all of its nutritious content.
Pan Roased Lemon Pepper Salmon & Garlic Asparagus
2 servings
2, 6oz pieces of salmon (wild, if possible)
2 tbsp olive oil divided
½ tbsp fresh lemon juice
3 cloves garlic minced & divided
1 tsp dijon mustard
¾ tsp onion powder
½ tsp each salt + pepper
1 ½ -2 lbs asparagus - tough ends removed
Sprinkling of 'everything but the bagel' seasoning (EBTB)
Preheat oven to 425 F
Mix 1 tbsp olive oil, the lemon zest, lemon juice, 1 clove garlic, dijon, onion powder - brush evenly over the top of the salmon then sprinkle with salt + pepper and top with lemon slices
Toss asparagus with remaining tbsp olive oil and remaining 2 cloves of garlic and season with EBTB seasoning, then place around salmon
Roast in oven for approximately 14 minutes
Salmon is super rich in the most absorbable form of omega 3's, called DHA. DHA is critical for brain and eye development of a growing baby in utero and has been increasingly shown in studies to be connected to both assisted reproduction and pregnancy success.
Asparagus is packed with folate, an essential B vitamin that is an important component for conception and pregnancy. Folate along with folic acid supplementation can aid in the prevention of serious abnormalities of the brain and spinach cord (neural tube defects). Asparagus is also a nice source of vitamin K, vitamin C and fiber.