Dear Infertility Warrior
A letter to the strong women and men in the midst of an incredibly hard, yet conquerable infertility journey.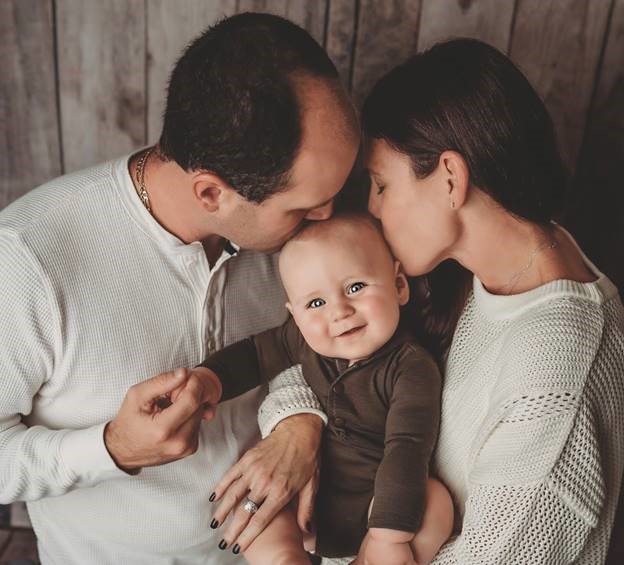 Dear Warrior,
I SEE you.
A wise friend once told me, "Struggle isn't the meaning of life, but without struggle the positive moments we experience have little meaning." I see all your struggles. I see your tired self searching for answers, hanging on to hope and wanting desperately for SOMETHING to work. I see you researching, reading and praying. I see you wanting so bad to feel like yourself, wanting to feel like infertility doesn't consume your every thought, and trying to stop those negative thoughts from entering your mind. I see the heartbreaking moments of hearing news you don't want to hear, having to put more faith in others than you would have ever expected. I see you with those bills, endless tears, physical and emotional pain… all your struggles with becoming a parent. I also see so many things that others, maybe even including yourself, can't see.. your fight, your desire, your drive, your strength, your bravery. I see you.
I WAS you.
I remember it like yesterday. I was 9 weeks pregnant on my way to our OBGYN for my first ultrasound thinking that this was the BEST day of our lives. I heard, "I'm so sorry. There's no heartbeat", in a voice that seemed to be as dark as the news. Little did I know, that moment would mark the start of a long, TOUGH journey called infertility. We would go on to have a D&C where we discovered that our lost baby had a chromosome abnormality. It was too risky to continue to conceive on our own. After experiencing three miscarriages, and knowing my age was not on my side, we were advised that our best option was to seek professional help.
RMA came highly recommended. After countless tests, procedures and analysis of our history, Dr.Grunfeld knew that IVF was our best option. We started off with doing IUIs. Insurance became another hurdle, preventing me from going straight to IVF. I have to say that insurance companies have come a long way in recent years with regards to fertility treatments, but they still have a long way to go. Needless to say, we would go on to have three failed IUI rounds, two resulting in chemical pregnancies.
By the time we started IVF we had lost a total of five babies. As defeated as we felt, there was a sense of hope with each round of IVF (I know you can understand the tug and pull of hope and fear). We went in thinking, "This is the round we will have success." We did the lucky socks, the message boards, the humorous shirts, pineapple cores, acupuncture, vitamins, salty fries, WE DID IT ALL! We tried every trick, scientific and silly, to become parents.
Our 1st retrieval didn't go as planned. Our intent was to send our embryos for PGT in order to increase our changes of a healthy embryo. Fertilization was great, 6 out of 7 embryos. But that's when it all went downhill. We received a call 7 days past retrieval from the doctor himself. He informed us that ALL the embryos that made it to day 7 were too poor to even send for PGT testing.
We were crushed. It was one of those moments that truly brought us to our knees. The one thing that we thought was a "sure win," IVF, was now also letting us down. We couldn't conceive on our own without failure. We couldn't conceive with IUIs or IVF without failure (or so we thought at the time). Were WE just destined to fail? Now what? Regardless, we moved forward because that's what we warriors constantly do, right?
We started round 2. Well, round 2 ended up as our fourth IUI. My ovaries were just not responding to medication. It felt like blow after blow, but still... we moved forward. Round 3 finally yielded some positive news. We retrieved and fertilized one PGT normal embryo! Was this our golden egg? With the string of bad luck we couldn't help but think that one embryo wouldn't be enough. We went on to do one more retrieval. This time we hit the jackpot- 4 PGT normal embryos. How? Who knows. Was it acupuncture? Was it the change in diet? Was it the countless vitamins? We all know it wasn't because I just "relaxed" as so many others often loved to advise.
It took us two transfers but we finally made it. We made it to the other side of infertility. We survived the heartbreak, uncertainty, the ups and downs. We survived surgeries and procedures, really early mornings, phone calls all day, and scan after scan after scan! We survived the thousands of needles and what felt like millions of appointments, but we made it. We are PARENTS!
As hard as this journey seems now, believe that there is light at the end of the tunnel. The lessons you will learn about yourself are invaluable. When you feel as if you can't go on, you can. When it feels like you want to give up, don't. When you think you are alone, YOU AREN'T. Remember, I was you. I'm WITH you.
We are HERE to support you.
To say it takes a village is an understatement. The team at RMA were part of my village. They were there to listen to my concerns, steer me in the right direction and were my support along the way. Every doctor, every nurse, every embryologist, and every assistant made me feel like I was in good hands. I also found the strength of strangers and the love of family and friends to be vital. My advice to you in this moment: find your village! As much as we come to realize that so many people out there don't understand our journey, many people actually do. Society today has become comfortable sharing infertility stories. I took comfort in knowing that other women out there, "got me". Many warriors understood the true meaning of struggle. I hope that my story can make you feel a little less alone and a lot more hopeful. I know this journey won't be easy, but in the end, I promise you it will be worth it.
Christopher Reeves said it best when he said, "A hero is an ordinary individual who finds the strength to persevere and endure in spite of overwhelming obstacles." You, my friend, are a hero of your own story.
Keep fighting the good fight. YOU'VE GOT THIS!
Lynsay, Robert and Benjamen B.